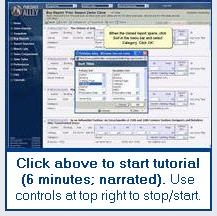 So you need to run a prior season analysis ...
The purpose of a prior-season analysis is to see how accurate your suggested buy quantities were for the previous season's list. View the tutorial at right for an overview of the process. The first step is to export the needed data from Pub Alley: both the buys you recommended and actual initial sales. If you prefer, there are PDF and Word versions of the tutorial.
PC USERS: Follow the steps in the tutorial to export data from Pub Alley. Continue with the instructions below to load the macro (a small program) on your computer. You will only need to do this ONCE. The macro transforms the exported data into an easy-to-read summary report.
MACINTOSH USERS: Follow the steps in the tutorial to export data from Pub Alley. Skip the steps below: the macro does not function on a Mac. Send your Excel file to Pub Alley for conversion (lparker@ebsco.com).
Click here and choose SAVE (not open) in the dialog box that appears. When saving, confirm that the file extenstion is .xla (if .xls or no extension appears, see screenshot).
Open Excel.
Select Tools, Add-Ins. See screenshot. A dialog box will appear.
Click the Browse button. See screenshot. Another dialog box will appear.
Navigate to where you saved the file. Select it and click OK. See screenshot.
You may be asked to copy the add-in to your local C: drive. Select Yes.
Close the original dialog box by selecting OK.
The macro is now installed on your computer and will be available in Excel each time you need it. The tutorial describes how to run the macro on the data you exported. If you have any questions, please contact us at lparker@ebsco.com.